WELCOME TO A WORLD OF BROAD DATA COLLECTION, INTUITIVE WORKFLOW AUTOMATION, AND DEEP ANALYTICS, WORKING TOGETHER IN ONE PIECE OF POWERFUL SOFTWARE
The Healthcare SafetyZone® Portal is a comprehensive web-based system that transforms any reporting, education or safety procedure – adverse event / patient safety incident reporting, leadership huddles, discharge callbacks, patient complaints, employee surveys, and more – into easy and meaningful electronic processes. With a wide range of reporting templates for hospitals and all provider types, plus the flexibility of full customization, our clients benefit from broad data collection combined with intuitive workflow automation and deep analytics to turn data into learning that supports their patient-centered systems of care.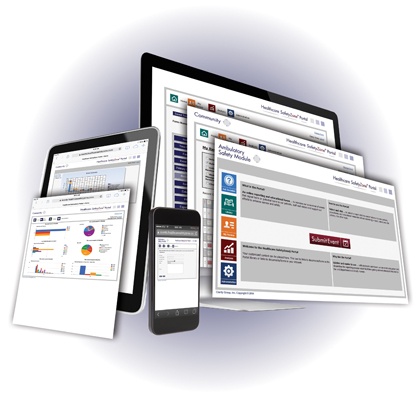 THE HEALTHCARE SAFETYZONE® PORTAL IS...
COMPREHENSIVE, CUSTOM REPORTING
Designed by healthcare risk-quality-safety professionals and informed by decades of risk management experience, our system enables you to transform virtually any reporting, education, or safety procedure into simple electronic processes. Use templates from our library, built and evolved over 12+ years of client experiences, create your own custom forms with our guidance, or mix and match as you see fit.
ON-DEMAND DATA ANALYSIS
Reported information does not become actual knowledge without state-of-the-art analysis. With powerful real-time analytics and an assortment of graphing features, turn your data into education and implement interventions that measurably impact patient safety.
ROBUST WORKFLOW MANAGEMENT
Track follow-up actions in real time and never lose data to "the shuffle." Set advanced notification criteria per user or assign reviewers as needed. Once a report is submitted, the workflow engine takes over, ensuring all necessary reviews are timely and traceable.
WEB-BASED, SYSTEM-WIDE ACCESS
The Healthcare SafetyZone® Portal works wherever you work. Access the system anywhere in your organization including any mobile device or tablet.
EVERGREEN TECHNOLOGY
We engage our clients for product feedback, which drives enhancements that are implemented seamlessly on a routine basis as part of their relationship with us.
We don't do "versions."
INDUSTRY-LEADING CUSTOMER SERVICE
When you partner with us, you're partnering with four decades of healthcare risk management expertise. We're here for you from contract signing, to implementation and training, to ongoing support. With Clarity, you get the most out of your products and services.
PERFECT FOR EVERY PROVIDER TYPE
Unlike many electronic reporting solutions that were developed first for hospitals and then "made to fit" other provider types (an expensive experiment for a smaller organization), our system was built from the ground up to be an intuitive data collection solution for the entire healthcare industry. That means you'll find levels of flexibility, relevant templates, and tailored pricing structures that fit your organization, from the largest academic medical centers, hospitals, and physician groups, to Critical Access Hospitals, Federally Qualified Health Centers, ambulatory and hospice facilities.
THE HSZP™ DOES ALL THIS AND MORE!
Incident / Adverse Event Reporting & Management
Equipment Orders
Patient Feedback, Advocacy & Surveys
Infection Surveillance & Control
Nursing Peer Review
Employee & Environment Safety
Discharge Callbacks
Leadership Huddles
Mandatory State & Regulatory Reporting