Clarity's Healthcare SafetyZone® Portal is a web-based, healthcare incident reporting and patient safety management system that enables you to collect and analyze data, facilitate internal communication, manage follow-up and foster organizational learning to support all your risk, quality and safety initiatives.
Transform virtually any reporting, education, and safety process--adverse events, patient complaints, safety drills, discharge callbacks, employee surveys, etc.--into simple electronic processes that can be accessed organization-wide. The Healthcare SafetyZone® Portal is easy-to-use and flexible, making it a perfect fit for any organization, from large academic medical centers, CAHs or ambulatory facilities, to physician practices, hospice and home health.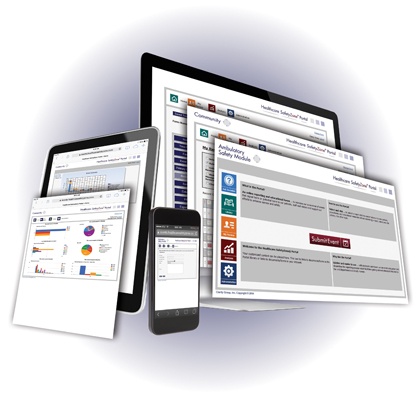 COMPREHENSIVE, CUSTOM REPORTING
Designed by healthcare risk-quality-safety professionals and informed by decades of risk management experience, the Healthcare SafetyZone® Portal enables you to transform virtually any reporting process into simple electronic forms. Utilize templates from our library, built and evolved over 12+ years of client experience, or build your own with our guidance.
ON-DEMAND DATA ANALYSIS
Reported information does not become actual knowledge without state-of-the-art analysis. Turn your collected data into education that leads to measurable outcomes and makes your organization a safer place.
ROBUST WORKFLOW MANAGEMENT
Track follow-up actions in real time and never lose data to "the shuffle." Assign reviewers as needed or set advanced notification criteria per user. Once a report is submitted, the workflow engine takes over, ensuring all necessary reviews are timely and traceable.
WEB-BASED, SYSTEM-WIDE ACCESS
The Healthcare SafetyZone® Portal works wherever you work, accessed seamlessly on any computer across your organization.
THIS IS EVERGREEN TECHNOLOGY
Free ongoing software updates--NO "versions"--mean you never pay for the newest features. This is the cutting edge of healthcare reporting and patient safety management, and we're not going to charge you twice to keep it that way!
System Features
Incident Reporting & Management | Patient Feedback, Advocacy & Surveys
Infection Surveillance & Control
Employee & Environment Safety | Claims Management
INCIDENT REPORTING & MANAGEMENT
Report Incidents. Manage Risk. Show Results.
The Healthcare SafetyZone® Portal is not just a home for data--it's a driver for improvement. With the healthcare system facing dramatic changes, and reimbursement payments now more closely linked to quality, it's critical to have the right tools in place. Beyond simple healthcare incident reporting software, the system allows you to meet requirements and save time and money, all while improving patient safety and quality of care.
Increase reporting - clients experience an average increase of 20-50% in reporting
Accelerate action - automated workflow & real-time communication improves productivity & enables action to reduce the risk of claims
Comply with reporting requirements - easily produce reports required by outside agencies
Foster collaboration & integration - facilitate communication & share knowledge across departments or locations
Analyze trends - identify opportunities for interventions to reduce risk & increase reimbursements
The Portal is an affordable software for risk management tool that can help raise your organization's quality profile and lead to a safer and more preferred patient environment, resulting in a more profitable patient stay.

Robust reporting and analytics lead to real value.
The true value of the Portal is in its ability to take information and connect it in a way that shows you a path to improvement. At the click of a button, you can aggregate, filter and analyze in ways that will support strong decision making leading to measurable outcomes.
Look at data from multiple stakeholder perspectives across the organization
Conduct root-cause analysis on events
Demonstrate the value of your quality programs with comparative reports
Benchmark against peers & share lessons learned
Ready data for PSO reporting
Earn a reputation as a transparent & progressive healthcare provider
A simple and flexible tool that works the way you do...AND GROWS WITH YOU!
We believe that risk-quality-safety management systems should fit what organizations need, not the other way around. The Portal is scalable so that as your organization grows or as regulations change, you already have a system that can adapt with you. We start where you are ready to start - with existing templates or a blank slate - our experts will guide you through the steps.
Customize forms & templates even after implementation
Define an unlimited number of user rules & permissions
Set up unlimited specialized alerts & reminders for workflows
Templates based on AHRQ Common Formats; can support any combination of taxonomies
Regular enhancements based on user feedback
Track everything you need like Patient Feedback, Infection Control, & Employee & Environment Safety
Technically, it's simple.
Accessible via your organization's intranet
Template & Custom Forms are Easy & intuitive
Integrates with your EMR and other systems
Cloud-based; no IT maintenance
Professional training & help desk support
User-group meetings
HIPAA compliant
Smooth implementation process
Clarity is the clear choice.
Our goal is to help you uncover your path to improved patient care. We know you have a strategy and we are here with the tools to support it.
We care about patients as much as you do
We are experts in healthcare risk management
Our tools are designed in response to real client needs
We work the way you want to work
We offer our expertise & provide educational & best practice sharing opportunities
We believe risk management & patient safety tools should be affordable & accessible